PRESSURE BALANCE CUSTOM SHOWERS
A Pressure Balance shower elevates simplicity above all else. A single handle turns the water on and off while delivering the desired temperature.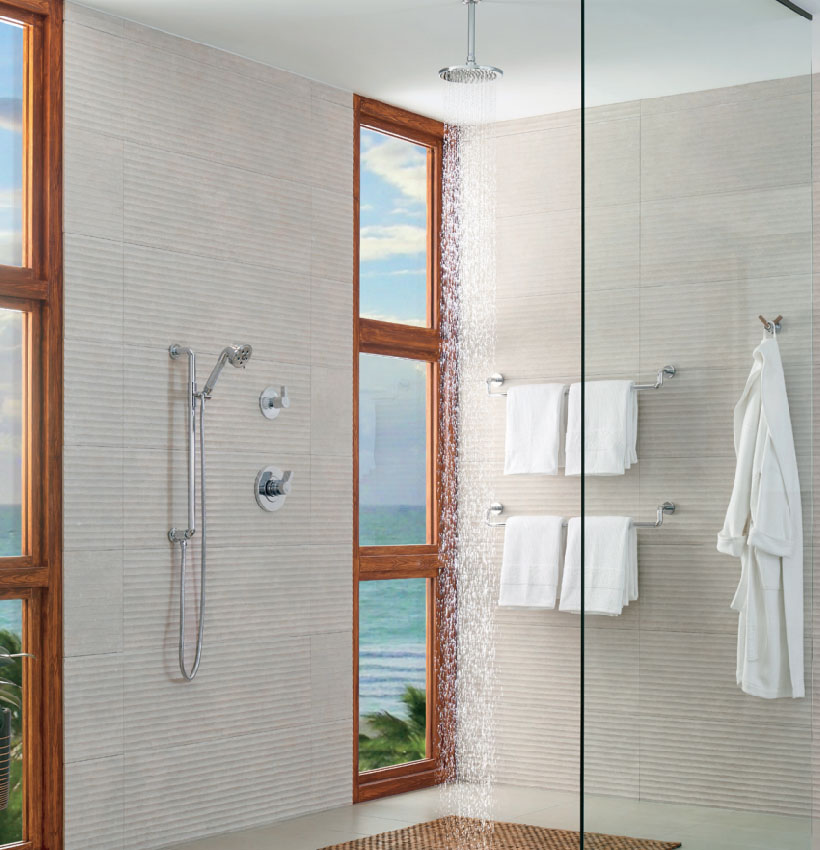 For more information on how to create a customized shower experience, 
DOWNLOAD THE CUSTOM SHOWER DESIGN GUIDE
System Functionality
The Pressure Balance shower compensates dynamically for changes in water pressure to maintain a consistent temperature within ± 3.6° F (±2° C)—even when the system pressure varies, using a single-function cartridge.
A Pressure Balance shower system can be used for a tub/shower design or a shower only design with or without a diverter. For a streamlined look, use an integrated valve and diverter trim.
Products Required
To create a custom Pressure Balance shower, you will need the following: click the images to see all available styles
SYSTEM SPECIFICATIONS
Requires ½" supply lines (inlet/outlet)
Requires installation using MultiChoice® Universal Rough or MultiChoice® Universal Integrated Shower and Diverter Rough
Red and Blue temperature indication
Field adjustable to limit handle rotation into hot water zone
Optional extension kit available
Max Flow Rate 6.3 gpm @ 60 psi,23.9 L/min @ 414 kPa
From the finest details to most revolutionary technologies, every facet of each Brizo® shower component plays a role in reinventing the luxury shower. A wide range of shower components offer the flexibility to suit any design aesthetic and provide the desired water experience. Learn More about showering components.